Re-Stringing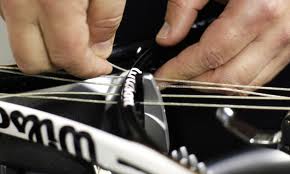 We offer a comprehensive racquet re-stringing service. Racquets can be repaired very quickly with a range of strings on offer.
Costs
Junior re-string £16 - standard string (Polyester or Synthetic Gut)
Adult re-string £18 - standard string
Re-string using your own string £10
More expensive strings such as Luxilon and Wilson are on offer and range between £20-£22. If I don't have the string you want, I can order anything of your choice.